When you're after a comprehensive approach to your health, choose Exercise Physiology for the ultimate outcomes and support.
Exercise Physiology at Essendon Physio Group.
Accredited Exercise Physiologists (AEPs) are Exercise Experts and our Exercise Physiology team work closely with our Physiotherapy team to ensure that as you're moving out of pain, that you are building movement, strength and returning to the activities that you love.
Including an AEP into the team ensures that you're getting the right diagnosis, hand on treatment and design of the treatment pathway from physio and then adding the specialist exercise programing to move you from good to great.
Benefits of consulting with an Exercise Physiologist
Your Exercise Experts will not only ensure that your recovery is well managed, their in depth understanding of how to prescribe exercise for chronic and complex health conditions makes sure that your your whole health profile is being considered with your management plan.
---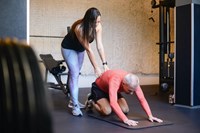 The team can help with injury management whilst tailoring a program that can also help with goals such as
weight management, diabetes management, dizziness
and
Osteoporosis
to name a few:
Exercise and Diabetes Management

Osteoporosis
Complex and persistent pain

Vestibular conditions (BPPV)
Arthritis

Cardiovascular disease
Post surgical rehabilitation

Return to sport
When you're looking for a comprehensive approach to manage your health, we're here to help.