Working with Melbourne's leading surgeons and sports physicians, our sports physio's
are ready and here to help.
At Essendon Physio Group, our team understand how important it is to keep active and engaged in the sport you love, whether you be playing it socially or professionally. Our services are expertly tailored to you, your injury and your return to sport goals.
We have Exercise Physiologists onsite to help your with sports specific rehab, fully equipped rehab gym and our physio team will comprehensively assess you to ensure that we get the right diagnose with the right treatment plan in place from the outset.
Our surgeon and sport physician network are on call for any additional input and we strongly believe in helping communicate progress and updates to your coaching and support team.
We are well positioned to help you with:
Muscle strains and Ligament injuries

Joint dislocations

Cartilage injuries

Tendinitis

Fractures

Shin splints and Stress fractures

Plantar fasciitis and other foot problems
Knee injuries, pain and Hip injuries

Lower back pain

Tennis elbow and golfer's elbow

Iliotibial band friction syndrome

Swimmers shoulder (impingement syndrome)

Osteitis Pubis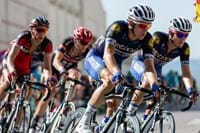 ---
We are expertly placed for
movement screenings, sports specific screening, injury prevention programs
as well as
return to sport plans.
Our sports physio team either play, teach, coach or umpire elite sports and understand just how important it is to keep you on the field or court safely.
---
---
For a personalised approach,
we've got you covered.
As an AFL umpire and Physiotherapist, Jamie Broadbent understands just how important it is to prevent and manage injuries to ensure that you can stay on the field and perform at your best.
In this video he talks about common injuries and the strategies to best avoid them to keep you off the bench and playing the game you love.
Watch Jamie's presentation on injury prevention and reach out to him for some more advice.