---
Our team of health professionals use a range of techniques to treat injuries, manage pain and prevent injury recurrence so you can move well and feel amazing!
Our team is experienced in diagnosis, treatment design, hands on therapy as well as exercise rehabilitation for a range of injuries, whether they be new or existing:
---
Lower back pain

Muscle strain

Ligament injuries

Tendonitis

Shoulder pain and shoulder rehab exercises

Sciatica

Neck pain
Tennis elbow and golfer's elbow

Hip pain

Knee pain and Knee injuries - including rheumatoid arthritis

Bursitis

Plantar fasciitis

Osgood-Schlatter Disease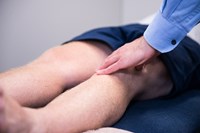 Experiencing joint pain, injury, or muscle strains? Our team of experts can help. Book today.
---