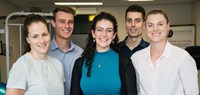 Samantha Shirley - Physiotherapist
Samantha is a highly skilled physiotherapist with a special interest in injury rehabilitation, concussion, headaches and Vestibular assessment.
Her high attention to detail nature, combined with her friendly demeanour makes her a real favourite amongst clients and colleagues.
Sam's educational background of a Bachelor of Exercise Science as well as a Master of Physiotherapy Practice gives her a unique perspective throughout the treatment journey utilising both hands on and movement-based techniques to help her clients reach goals they never thought possible.
Having worked with a variety of individuals and conditions her philosophy centres around a longer term outlook on health and looks to combine incredible diagnostic skills with functional and sustainable rehabilitation plans.
Jamie Broadbent - Physiotherapist
Jamie is a dual qualified Physiotherapist and Exercise Physiologist with extensive experience in private practice. He is also an AFL umpire.
He works predominantly with those recovering from orthopedic surgery and sporting injuries as well as with athletes for sports specific pre screening and injury prevention.
Jamie comes from a strong sporting background and practices at an elite level. He regularly appears on radio discussing the importance of physical activity and how to get started on an exercise plan.
Jamie believes that a thorough assessment combined with hands on treatment in the early stages of injury is the ideal approach.
---
Laura Power - Physiotherapist
Laura is a passionate Physiotherapist with a particular interest in the assessment and rehabilitation of Vestibular conditions including Benign Paroxysmal Positional Vertigo (BPPV), Vestibular Migraine, Persistent Postural Perceptual Dizziness (PPPD), Vestibular Neuritis, Meniere's Disease and other rarer Vestibular Disorders. She has also completed further professional development in Pediatric Vestibular Rehabilitation.
She has a comprehensive knowledge base of Cerebellar Ataxia and related conditions through her research work at the Royal Victorian Eye and Ear Hospital and has published a number of first author peer reviewed papers and co-authored journal articles.
She is approachable, caring and inclusive, working with clients that have a wide range of abilities.
Peter Vitale - Senior Physiotherapist | Clinical Director
Peter leads our Essendon Physio team as the clinical director and is a well-known practitioner with Melbourne's leading surgeons and medical specialists.
Known for his accurate diagnosis and manual treatment skills, Peter's areas of specialty include post-operative rehabilitation, jaw physiotherapy and vestibular physiotherapy.
He has worked with many professional athletes in both soccer and tennis.
Peter delivers many professional courses in post-operative and Vestibular physiotherapy across Australia and brings over a decade's worth of experience to his treatment.
Craig Harrison - Senior Accredited Exercise Physiologist
Craig is a highly experienced and sought after exercise physiologist, known for his attention to detail and positive approach.
One of Melbourne's leading practitioners in treating lower back pain, Craig's specialties are helping patients return to an active life after surgery or sporting injury and managing persistent pain conditions such as tendinopathies and bursitis. He has helped thousands of people return to an active life after an injury.
With experience in occupational rehabilitation, manual handling retraining and work hardening programs, Craig is well positioned to help those recovering from injuries achieve their return to work goals.
Hayley Owens - Senior Accredited Exercise Physiologist
Hayley is an experienced practitioner with special interests in Vestibular rehabilitation, exercise oncology and mental health. Her work with younger adults with disabilities and the NDIS is a great display of her patient and caring approach.
She is a our lead Life! Program facilitator where she has coached hundreds of Victorians to a road of better health. She contributes to Diabetes Victoria publications and presents regularly at community events.
Hayley thrives on researching the best evidence-based treatments and balances this knowledge with the individual needs of those that seek her assistance. She is an active listener and provides comprehensive assessment and management planning.
Kylie Royal Meehan - Accredited Exercise Physiologist
Kylie is a highly trained Exercise Physiologist with more than a decade of clinical experience. She is widely recognised for her understanding and thorough approach.
Kylie has a diverse clinical background with special interests in neurological conditions, spinal cord injuries and return to running. She also enjoys working in women's health (PCOS, metabolic conditions, menopause and post-natal care).
Kylie has experience working in emergency services and shift work, she is also a mum herself and understands first hand, the health and well being challenges these roles present.
Kylie has a true desire to educate, support and create pathways to help people to live their best lives.
Kirsty Comley - Remedial Massage Therapist
Kirsty is dedicated to helping you alleviate pain, improve movement and promote overall wellness through massage. She works hand in hand with our Physio's and Exercise Experts and her experience in using a range of techniques ensures that whatever your presenting problem, she will be able to help.
In addition to managing injuries and reducing muscle tension, a session with Kirsty can also focus on relaxation - so spoil yourself and book in, you deserve for your body to feel amazing.
Nicole French - Director | Accredited Exercise Physiologist
Nicole is the driving force behind the practice and one of Australia's leading authorities in the use of exercise to manage chronic disease and Diabetes.
A passionate advocate for better access to healthcare, Nicole is an expert contributor to Diabetes Victoria and experienced Occupational Health Consultant. She is a Director of the Primary Care Diabetes Society of Australia, committee member of Parents Voice Australia and ambassador for the Girls Uniform Agenda. She is a leader in her field and most recently received the Exercise and Sports Science Australia 2020 Female Leaders in Exercise & Sports Science award.
Nicole has a strong academic background with postgraduate teaching appointments across Australia. She is a regular speaker at community health events and is a regular guest on North West FM.