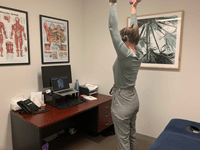 First class physiotherapy care,
delivered
in the comfort of your own home
Online Physiotherapy is an incredible way to connect with an expert Physiotherapist or Exercise Physiologist without leaving your home.
Our therapists are specifically trained in the area of virtual physiotherapy so you can be assured that are receiving the highest quality service by experienced clinicians.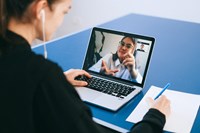 Frequently Asked Questions about

Online Physiotherapy
---
What injuries are appropriate for an online Physiotherapy Consultation?
Online Physio can be used for any condition. We most commonly help individuals with:
What makes our service really special special is that we also have the expertise of Melbourne's most established Exercise Physiology team under the same roof.
Their expertise in strength and conditioning, rehabilitation and management of chronic and complex health conditions with exercise is an incredible addition to our specialist skills in assessment, diagnosis and treatment planning.
Do I need a referral to have an online Physiotherapy Consultation?
The great news is that you don't need a referral and from April 14th 2020 you will also be able to claim through your private health insurance. If you have a referral from your doctor for physiotherapy we encourage you to email it to us to further enhance our assessment and treatment.
If you would like, we can also write to your GP or specialist advising them of your assessment findings and management plan and keep them updated throughout your treatment.
For sporting injuries we will also liaise with your coach to keep them updated on any movement restrictions and likely time to return to play.
We are happy to call or write to any member of your current health care team including personal trainers and keep your gym up to date about when you might expect to return from injury.
How can I be diagnosed online without having seeing someone in person?
We're glad you asked. Your physiotherapist will determine what the problem is by asking you key questions and assessing your movement. Our therapists are incredibly skilled at determining the key reasons for your pain or movement difficulties as well as why you are dizzy or losing your balance.